Skin tissue engineering advances in severe burns: review and therapeutic applications
Received: 3 December 2015
Accepted: 11 January 2016
Published: 19 February 2016
Abstract
Current advances in basic stem cell research and tissue engineering augur well for the development of improved cultured skin tissue substitutes: a class of products that is still fraught with limitations for clinical use. Although the ability to grow autologous keratinocytes in-vitro from a small skin biopsy into sheets of stratified epithelium (within 3 to 4 weeks) helped alleviate the problem of insufficient donor site for extensive burn, many burn units still have to grapple with insufficient skin allografts which are used as intermediate wound coverage after burn excision. Alternatives offered by tissue-engineered skin dermal replacements to meet emergency demand have been used fairly successfully. Despite the availability of these commercial products, they all suffer from the same problems of extremely high cost, sub-normal skin microstructure and inconsistent engraftment, especially in full thickness burns. Clinical practice for severe burn treatment has since evolved to incorporate these tissue-engineered skin substitutes, usually as an adjunct to speed up epithelization for wound closure and/or to improve quality of life by improving the functional and cosmetic results long-term. This review seeks to bring the reader through the beginnings of skin tissue engineering, the utilization of some of the key products developed for the treatment of severe burns and the hope of harnessing stem cells to improve on current practice.
Keywords
BurnsSkin tissue engineeringStem cellsCultured epithelial autograftsDermal substitutesMicroskin grafting
Background
Despite the recent question on whether skin is the largest organ in the human body [1], no one can dispute its protective, perceptive, regulatory and cosmetic functions. The top layer of the skin, the epidermis which comprised mainly of keratinocytes, is critical for survival as it provides the barrier against exogenous substances, chemicals, pathogens and prevents dehydration through the regulation of fluid loss. Other cells within the epidermis include melanocytes which give pigmentation and Langerhans' cells which provide immune surveillance. Beneath the epidermis, the dermis is a thicker layer of connective tissues that consists mainly of extracellular matrix (ECM) or structural components (predominantly collagen and elastin) which give mechanical strength, elasticity and a vascular plexus for skin nourishment. Cells interspersed within the ECM include fibroblasts, endothelial cells, smooth muscle cells and mast cells [2]. These two morphologically distinct layers — the epidermis and the dermis — are in constant communication across various levels (example at the molecular or cellular level, growth factor exchange, paracrine effects, etc.) to establish, maintain, or restore tissue homeostasis. Between the epidermis and dermis is the basement membrane (BM), a highly specialized ECM structure (composed of a set of distinct glycoproteins and proteoglycans) that physically separates the two layers rendering primarily a stabilizing though still dynamic interface and a diffusion barrier [3]. In general, the BM contains at least one member of the four protein families or subtypes of laminin, type IV collagen, nidogen, and perlecan, a heparan sulfate proteoglycan [4]. Populating the epidermal and dermal layers are the various skin appendages such as the hair follicles, sweat glands, sebaceous glands, blood vessels and nerves.
Extreme loss of skin function and structure due to injury and illness will result in substantial physiological imbalance and may ultimately lead to major disability or even death. As much as it is claimed that tissue-engineered skin is now a reality to treat severe and extensive burns, the fact remains that current skin substitutes available are still fraught with limitations for clinical use. This is clearly evident amongst burns or wound-care physicians that there is currently no single tissue-engineered substitute which can fully replicate the spilt-thickness skin autografts for permanent coverage of deep dermal or full thickness wounds in a one-step procedure. Indeed, clinical practice for severe burn treatments have since evolved (Fig.
1
) to incorporate some of these tissue-engineered skin substitutes (Table
1
), usually as an adjunct to speed up epithelisation for wound closure and/or to improve quality of life by improving functional and cosmetic results long-term. However, we must not lose hope, relook at our current practices, press on with innovation and develop new strategies in biology, material science and technological know-how as we seek to achieve the holy grail of creating a fully functional tissue-engineered composite skin with appendages for the clinics.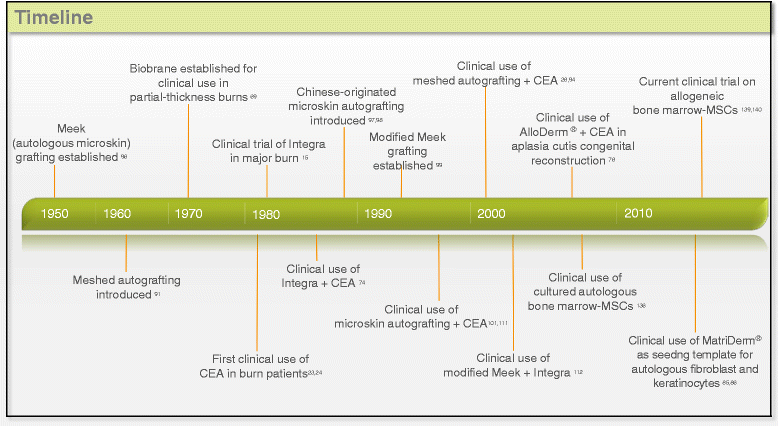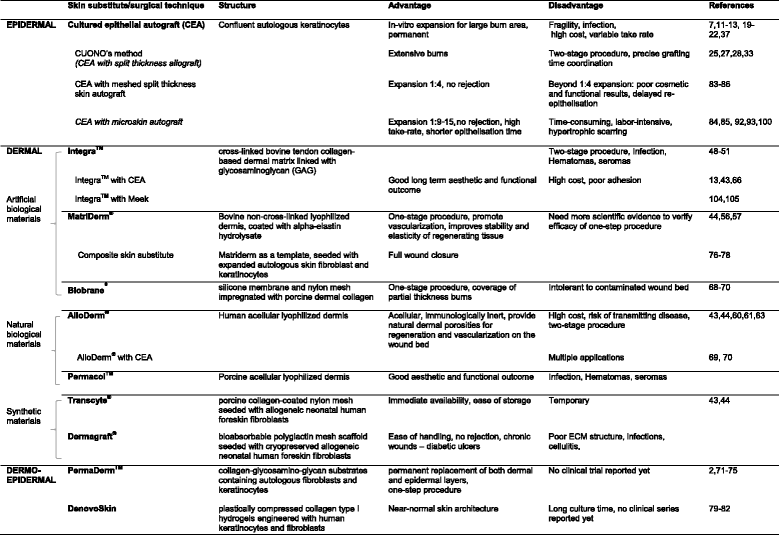 Conclusions
Similar to the what was mentioned that no single treatment can be recommended in the management of diabetic foot ulcers based on the current and emerging therapies [142], there is no particular approach that is definitely superior for the treatment of severe burns. But based on existing technologies and products available for rapid coverage of extensive burns wounds - the use of Biobrane or similar products to cover the partial thickness component whilst the coverage of the deep dermal or full thickness component with skin allografts after excision, followed by a definite closure with autografts (meshed, microskin, CEA or in combination) - seem to be one of the efficacious and cost-effective management approaches. If the quality of life of the patients is to be considered such as to reduce scarring and contractures, tissue-engineered dermal templates can be used but they typically come at a cost. Therefore, before technology can catch up in terms of producing a truly functional substitute that comes at a reasonable cost, the need for skin allograft tissue banks, whether local or regional, to serve healthcare centres that treat severe burns cannot be overstated. This is especially true in the event of mass casualty [143]. Having a facility that can double up as both a skin allograft bank and an autologous epithelial cell sheet culture laboratory would be a bonus as we seek to train and build up a critical mass of skin tissue engineers, scientists as well as administrators specializing in finance, quality assurance and regulatory affairs. Only by working closely with clinicians to fully appreciate the requirements for the patients, can this specialized pool of personnel innovate, harness emerging technologies, manage cost and navigate through the regulatory minefields for a realistic advancement of this exciting field of skin-based regenerative medicine.
Abbreviations
ADM:

acellular dermal matrix
ATP:

ATP binding cassette
BM:

basement membrane
CEA:

cultured epithelial autografts
CSS:

cultured skin substitutes
ECM:

extracellular matrix
FDA:

Food and Drug Administration
GMP:

Good Manufacturing Practice
hiPSCs:

human induced pluripotent stem cells
MSCs:

mesenchymal stem cells
VAC:

vacuum assisted closure
Declarations
Acknowledgements
The authors are deeply saddened by the recent passing (2nd November 2015) of Professor Howard Green (Harvard Medical School), the pioneer of cultured skin cell therapy. The authors are always grateful to him for his help and the gift of 3T3-J2 which made possible the use of cultured epithelial autografts to treat severe burn injuries in Singapore.
Open AccessThis article is distributed under the terms of the Creative Commons Attribution 4.0 International License (http://creativecommons.org/licenses/by/4.0/), which permits unrestricted use, distribution, and reproduction in any medium, provided you give appropriate credit to the original author(s) and the source, provide a link to the Creative Commons license, and indicate if changes were made. The Creative Commons Public Domain Dedication waiver (http://creativecommons.org/publicdomain/zero/1.0/) applies to the data made available in this article, unless otherwise stated.
Authors' Affiliations
(1)
Singapore General Hospital, Department of Plastic, Reconstructive and Aesthetic Surgery, Singapore, Singapore
(2)
Singapore General Hospital, Skin Bank Unit, Singapore, Singapore
(3)
Transplant Tissue Centre, c/o Skin Bank Unit, Singapore General Hospital, Singapore, Singapore