The molecular basis of hypertrophic scars
Received: 29 July 2015
Accepted: 30 December 2015
Published: 21 January 2016
Abstract
Hypertrophic scars (HTS) are caused by dermal injuries such as trauma and burns to the deep dermis, which are red, raised, itchy and painful. They can cause cosmetic disfigurement or contractures if craniofacial areas or mobile region of the skin are affected. Abnormal wound healing with more extracellular matrix deposition than degradation will result in HTS formation. This review will introduce the physiology of wound healing, dermal HTS formation, treatment and difference with keloids in the skin, and it also review the current advance of molecular basis of HTS including the involvement of cytokines, growth factors, and macrophages via chemokine pathway, to bring insights for future prevention and treatment of HTS.
Keywords
Hypertrophic scarsAnimal modelCytokinesGrowth factorsMacrophagesStromal cell-derived factor 1/CXCR4 signaling
Background
Hypertrophic scars (HTS) are considered to be a dermal form of fibroproliferative disorders that are caused by aberrant wound healing due to injuries to the deep dermis, including burn injury, laceration, abrasions, surgery and trauma. HTS are red, raised, rigid and can cause pruritus, pain and joint contracture. HTS formed in the facial area can cause cosmetic disfigurement, which result in psychological and social issues [
1
,
2
] (Fig.
1
).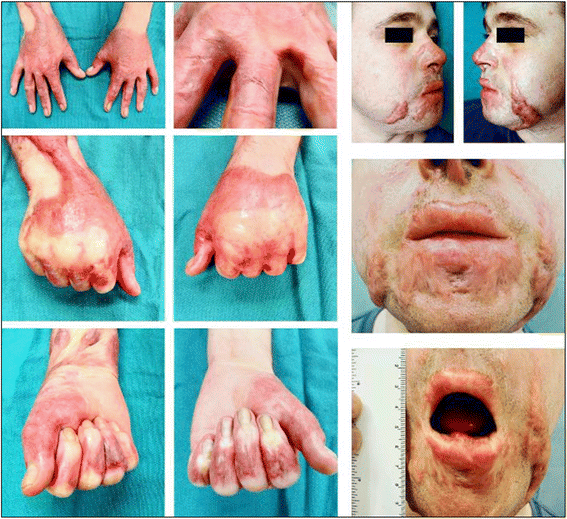 Review
Molecular basis of HTS
Cytokines in HTS formation
Interleukin-1 alpha (IL-1α) and TNF-α inhibit HTS
Interleukin-1 (IL-1) has two subtypes, IL-1α and IL-1β. IL-1α was found to promote the release of MMPs, activate MMP-1 and stimulate the degradation of ECM [60, 61]. Thus, decreased levels of IL-1α may lead to ECM accumulation and HTS. The expression of IL-1α was found significantly lower in HTS than in normal skin from patients following breast reduction surgery [62]. Quite different from IL-1α, IL-1β is found to be over-expressed in HTS compared to normal skin [63].
TNF-α participates in the early inflammation stage and the ECM remodeling phase. TNF-α is also believed to cause fibrosis together with IL-1β [64]. However, TNF-α expression was shown to be decreased in HTS compared to normal skin, which indicated that TNF-α may be important for wound healing and HTS might be partially a consequence of a decreased amount of TNF-α [65]. Another experiment demonstrated that TNF-α could suppress transforming growth factor beta-1 (TGF-β1)-induced myofibroblasts phenotypic genes such as α-SMA at the mRNA level as well as at the Smad signaling pathway of TGF-β1 [66].
Inappropriate release of IL-6 leads to HTS
IL-6 is also involved in the wound healing process. It is one of the major regulators of cells stimulation, angiogenesis and ECM synthesis [67]. IL-6 could also cause fibrotic diseases such as pulmonary fibrosis and scleroderma [68, 69]. In addition, IL-6 was reported to be highly expressed in fibroblasts from HTS tissue compared to normal fibroblasts, influencing scar formation by modulating fibroblasts [70]. In order to further investigate the function of IL-6, fibroblasts from HTS were treated with IL-6. Results showed an absence of any up-regulation of MMP-1 and MMP-3, indicating that suppression of MMPs may play a role in the excessive accumulation of collagen formed in HTS [71]. In fetal fibroblasts, there was less IL-6 produced compared to adult fibroblasts and the addition of exogenous IL-6 caused scar formation instead of scarless wound healing [72]. However, IL-6 knock-out mice showed delayed wound healing [73].
Interleukin-10 (IL-10) plays an important role in scarless wound healing by regulating pro-inflammatory cytokines
IL-10 is produced by T helper cells and it could mediate the growth or functions of various immune cells including T cells and macrophages. It has been established that IL-10 acts as a key anti-inflammatory cytokine, which could limit or terminate the inflammatory processes [74]. Neutralizing antibodies of IL-10 were administered into incisional wounds in mice and the results demonstrated an inhibited infiltration of neutrophils and macrophages and an over-expression of monocyte chemotactic protein-1 (MCP-1), IL-1β, TNF-α [75] and IL6 [76]. This is supported by another study that IL-10 significantly inhibited lipopolysaccharide (LPS)-induced IL-6 production at a transcriptional level [77]. A study tried to evaluate whether IL-10 could change the innervated conditions of full thickness excisional wounds created on the dorsal surface of CD1 mice. The results showed only temporary changes during the wound healing process but no significant changes at 84 days after treatment. However, wounds treated with IL-10 recovered similarly to normal skin compared to the wounds treated with PBS [78]. Another experiment reported that scar appeared in IL-10 knockout fetal mice compared to scarless wound healing in the control group [79]. A more recent study showed that IL-10 could provide an optimal environment for fetal and postnatal scarless wound healing [80]. A similar study also over-expressed IL-10 but in adult murine wounds. The results showed that increased IL-10 reduced inflammation, collagen deposition and created improved wound healing conditions [81].
Growth factors in HTS formation
Macrophages involve in HTS formation via Stromal cell-derived factor 1 (SDF-1)/CXCR4 chemokine pathway
Significant more mast cells, fibrocytes and macrophages were found in nude mice that received human split thickness skin graft (STSG) compared to nude mice that received human full thickness skin graft (FTSG) in vivo, where HTS formation was found on both mice 2 months after the grafting with more scar observed in mice that received STSG, suggesting that inflammatory cells and bone marrow-derived fibrocytes might play critical roles in HTS formation in this human HTS-like nude mouse model [124]. A sequent study showed increased grafted skin thickness, increased number of myofibroblasts, decreased decorin and increased biglycan expression, positive staining of human leukocyte antigen in STSG grafted skin that formed persistent scars, which showed morphologic, histologic and immunohistochemical consistency with human HTS [125]. This animal model provides a means to study HTS and test new novel treatment options. Although there is not an ideal animal model that can be directly translated into human subjects to clearly explain the molecular basis of HTS formation, the human HTS-like nude mouse model is closer to the perfect animal model because the survived human skin grafts possess the genetic and histological properties of human HTS.
SDF-1 is found to be a potent chemokine that attracts lymphocytes and monocytes by binding exclusively to its receptor, CXCR4 [126–128]. Studies focused on the functions of SDF-1/CXCR4 signaling have suggested that it involves not only in the tumor metastasis and vascularization but also in the pathogenesis of fibroproliferative diseases [129, 130]. Recent studies found up-regulated SDF-1 expression in the HTS tissue and serum of the burn patients as well as increased number of CD14+ CXCR4+ cells in the peripheral blood mononuclear cells, which suggested that SDF-1/CXCR4 signaling could recruit these CXCR4+ cells such as monocytes to the prolonged inflamed injured site and contribute to HTS formation [131]. In order to further verify the role of SDF-1/CXCR4 signaling in HTS formation, the CXCR4 antagonist CTCE-9908 was used to inhibit the SDF-1/CXCR4 effect on the human HTS-like nude mouse model. The study showed that CTCE-9908 significantly attenuated scar formation and contraction, reduced the number of macrophages in the tissue, which was differentiated and replenished by CXCR4 expressing monocytes in the circulation [132]. These findings support the role of SDF-1/CXCR4 in HTS formation and suggest an important role of macrophages in HTS formation.
Macrophages were first discovered by a Russian scientists, Élie Metchnikoff, in 1884 [133]. They are differentiated from newly recruited monocytes from the circulation. They are considered to play a vital role in the whole wound healing process because recent studies showed that impaired wound healing was associated with decreased number of macrophage infiltration at the injured site [134, 135]. However, pathological functioning of macrophages in the abnormal wound healing process can lead to disordered wound healing, including the formation of HTS [136]. Macrophages have two phenotypes, classically activated macrophages or the so called M1 macrophages and alternatively activated macrophages or the so called M2 macrophages [137]. Mahdavian et al. reported that M1 and M2 macrophages have distinct opposite functions in the wound healing process [136]. M1 macrophages can induce MMP-1 secretion and promote ECM degradation while M2 macrophages can secret large amount of TGF-β1, which can stimulate myofibroblast transformation and lead to ECM deposition. It is also hypothesized that prolong inflammatory phase will attract more macrophages and those macrophages will initially be more pro-inflammatory M1 phenotype and then switch to a more pro-fibrotic M2 phenotype due to more intense stimuli from the microenvironment [138]. The most distinct difference between M1 and M2 macrophages is that in M1 macrophages the arginine metabolism is shifted to nitric oxide and citrulline while in M2 macrophages it is shifted to ornithine and polyamines [139]. Growing evidence suggests that M2 macrophages are not constituted by a uniform population but can be further subdivided into M2a, M2b and M2c subsets [140]. M2a macrophages are induced by IL-4 and IL-13, which are involved in the anti-parasitic immune response and are considered to be pro-fibrotic. M2b macrophages are induced by IL-1β, LPS and immune complexes while M2c macrophages are induced by IL-10, TGF-β and glucocorticoids [141]. The fourth type, M2d macrophages, are characterized by switching from a M1 phenotype into an angiogenic M2-like phenotype, which termed M2d by Leibovich et al. [142].
Although studies suggest a close relationship between SDF-1/CXCR4 signaling and macrophage infiltration in the formation of HTS, more studies on the interaction between the two is still needed. Meanwhile, the roles of macrophage phenotypes in different phases of abnormal wound healing, like HTS-like nude mouse model, are to be investigated. Here we hypothesize that the monocytes, CXCR4 expressing cells in the circulation, will be attracted to the injured site via the SDF-1/CXCR4 signaling pathway due to concentration difference between the circulation and local tissue as well as the chemotactic effect of SDF-1. The monocytes then differentiate into M1 macrophages (NF-κB and STAT1 signaling pathways) and M2 macrophages (STAT3 and STAT6 signaling pathways) [
143
]. M1 macrophages secret pro-inflammatory cytokines such as IFN-γ, IL-1β, TNF-α, IL-6, IL-8 and generate reactive oxygen and nitric oxide through the activation of nitric oxide synthase 2 (NOS2). On the other hand, M2 macrophages inhibit the NOS2 activity via the activation of arginase-1. The distinct opposite and complementary functions of M1 and M2 macrophages will eventually lead to normal wound healing. However, in prolonged inflammatory environment such as wounds from a patient who suffered from severe thermal injury, large amounts of TGF-β1 can be produced together with increased myofibroblast proliferation, which will result in ECM deposition and finally HTS formation (Fig.
2
).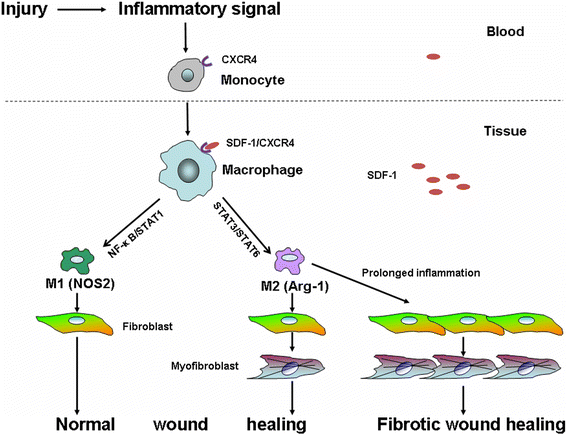 Conclusions
In this review, four phases of normal wound healing are discussed before outlining the pathogenesis of HTS, illustrating the delicate balance of ECM deposition and degradation which influences the outcome of the wound healing process. Differentiating HTS from keloids is also important because the clinical and molecular mechanisms are different leading to distinct therapeutic outcomes. HTS formation is a dynamic, complex process that involves interactions between multiple factors such as inflammatory cells, cytokines, growth factors, and chemokines. Keratinocytes and mast cells are considered to be involved in HTS formation. The role of cytokines such as IL-1, TNF-α, IL-6 and IL-10 as well as growth factors such as TGF-β, CTGF, PDGF and bFGF in HTS formation were discussed. Despite the complexity of HTS, more attentions are drawn to the molecular and cellular mechanism of HTS for technological and scientific advances such as the establishment of new animal models and in vitro techniques. Growing studies are focusing on the roles of polarized macrophages in HTS formation and it is suggested that polarized macrophages actively participate in HTS formation via the SDF-1/CXCR4 signaling pathway. A preliminary experiment conducted by our laboratory confirmed potential roles of M2 macrophages in HTS formation. A subsequent study of specific depletion of M2 macrophages by Cre-LoxP technology on our human HTS-like nude mouse model together with the study of the roles of molecular precursors mentioned above might provide novel findings and potential new treatment and prevention of HTS.
Abbreviations
α-SMA:

Alpha-smooth muscle actin
bFGF:

Basic fibroblast growth factor
CTGF:

Connective tissue growth factor
ECM:

Extracellular matrix
FGFs:

Fibroblast growth factors
FOXO1:

Forkhead box protein O1
FTSG:

Full thickness skin graft
GJIC:

Gap junction intercellular communication
HGF:

Hepatocyte growth factor
HTS:

Hypertrophic scars
IFN-α2b:

Interferon-alpha2b
IFN-γ:

Interferon-gamma
IL-1:

Interleukin-1
IL-1α:

Interleukin-1 alpha
IL-1β:

Interleukin-1 beta
IL-6:

Interleukin-6
IL-10:

Interleukin-10
LPS:

Lipopolysaccharide
MCP-1:

Monocyte chemotactic protein-1
MMPs:

Matrix metalloproteinases
NOS2:

Nitric oxide synthase 2
PDGF:

Platelet-derived growth factor
PMNs:

Polymorphonuclear neutrophils
RTKs:

Receptor tyrosine kinases
SDF-1:

Stromal cell-derived factor 1
siRNA:

Small interfering RNA
STSG:

Split thickness skin graft
TGF-β:

Transforming growth factor-beta
TGF-β1:

Transforming growth factor-beta 1
TGF-β2:

Transforming growth factor-beta 2
TGF-β3:

Transforming growth factor-beta 3
TGF-βRI:

TGF-β receptor I
TGF-βRII:

TGF-β receptor II
TNF-α:

Tumor necrosis factor-alpha
VEGF:

Vascular endothelial growth factor
Declarations
Acknowledgements
Authors gratefully acknowledge the support from Li Ka Shine Sino-Canadian Exchange Program (ZZ). This work was also funded by University Hospital foundation from University of Alberta and the Firefighters' Burn Trust Fund.
Open AccessThis article is distributed under the terms of the Creative Commons Attribution 4.0 International License (http://creativecommons.org/licenses/by/4.0/), which permits unrestricted use, distribution, and reproduction in any medium, provided you give appropriate credit to the original author(s) and the source, provide a link to the Creative Commons license, and indicate if changes were made. The Creative Commons Public Domain Dedication waiver (http://creativecommons.org/publicdomain/zero/1.0/) applies to the data made available in this article, unless otherwise stated.
Authors' Affiliations
(1)
Wound Healing Research Group, Division of Plastic and Reconstructive Surgery, University of Alberta, Edmonton, Canada
(2)
Division of Plastic Surgery, Department of Surgery, University of Alberta, Edmonton, Canada
(3)
Department of Burn and Reconstructive Surgery, 2nd Affiliated Hospital of Shantou University Medical College, Shantou, China