The influence of sex steroid hormones on the response to trauma and burn injury
Received: 5 December 2016
Accepted: 19 July 2017
Published: 14 September 2017
Abstract
Trauma and related sequelae result in disturbance of homeostatic mechanisms frequently leading to cellular dysfunction and ultimately organ and system failure. Regardless of the type and severity of injury, gender dimorphism in outcomes following trauma have been reported, with females having lower mortality than males, suggesting that sex steroid hormones (SSH) play an important role in the response of body systems to trauma. In addition, several clinical and experimental studies have demonstrated the effects of SSH on the clinical course and outcomes following injury. Animal studies have reported the ability of SSH to modulate immune, inflammatory, metabolic and organ responses following traumatic injury. This indicates that homeostatic mechanisms, via direct and indirect pathways, can be maintained by SSH at local and systemic levels and hence result in more favourable prognosis. Here, we discuss the role and mechanisms by which SSH modulates the response of the body to injury by maintaining various processes and organ functions. Such properties of sex hormones represent potential novel therapeutic strategies and further our understanding of current therapies used following injury such as oxandrolone in burn-injured patients.
Keywords
BurnTraumaSex hormonesSex steroid hormonesTestosteroneEstradiolOestrogen
Background
There has been increasing interest in the role of the endocrine system in the pathophysiological response to major trauma, with several studies suggesting that sex steroid hormones (SSH) may influence the outcome after injury. Survival differences have been reported between males and females after major trauma, with female victims having lower mortality than males [1, 2]. Morbidity is also affected by gender and as early as 1975, McGowan et al. reported a significantly higher incidence of bacteraemic infections in male trauma patients compared to females, 58.5% vs 41.5% respectively [3]. In addition, adults show a gradual decrease in survival after traumatic injury with age [4]. This further suggests that the reduction in sex hormone, as a result of menopause and andropause, may influence the response to injury [5].
This review discusses the potential role of SSH in explaining gender and age differences in mortality and post-injury pathology and potential novel treatment strategies that target the endocrine response and may improve outcomes following trauma.
Conclusions
The literature contains evidence of gender dimorphism in response to injury, with outcomes better in females than males for most injury types, one possible exception being burn injury. SSH have demonstrated potential to support homeostatic measures following injury by modulating a wide range of processes including inflammation, immune response and organ function (Figure
1
). However, at present, most of these data are derived from in vitro or animal-based studies and conclusive clinical trials of interventions with SSH are lacking. Further investigations are merited to ascertain the role of specific SSH in post-injury pathology as their therapeutic potential may prove invaluable in reducing patient morbidity and mortality in the clinical setting.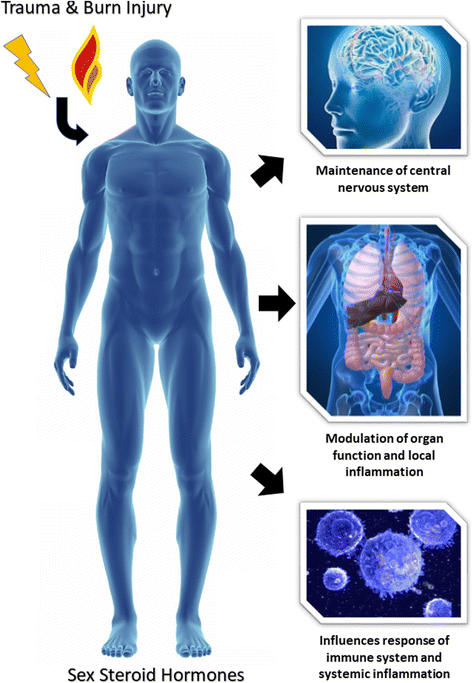 Declarations
Acknowledgements
K A-T is sponsored by the Ministry of Health and Civil Service Commission, Kuwait.
Funding
K A-T is sponsored by the Ministry of Health and Civil Service Commission, Kuwait.
Availability of data and materials
Not applicable
Authors' contributions
All authors have written and reviewed the manuscript. All authors read and approved the final manuscript.
Ethics approval and consent to participate
Not applicable
Consent for publication
Not applicable
Competing interests
The authors declare no conflicts of interest.
Open AccessThis article is distributed under the terms of the Creative Commons Attribution 4.0 International License (http://creativecommons.org/licenses/by/4.0/), which permits unrestricted use, distribution, and reproduction in any medium, provided you give appropriate credit to the original author(s) and the source, provide a link to the Creative Commons license, and indicate if changes were made. The Creative Commons Public Domain Dedication waiver (http://creativecommons.org/publicdomain/zero/1.0/) applies to the data made available in this article, unless otherwise stated.
Authors' Affiliations
(1)
Institute of Inflammation and Ageing, Birmingham University Medical School, Birmingham, UK
(2)
Scar Free Foundation Centre for Burns Research, University Hospital Birmingham Foundation Trust, Birmingham, UK