Review Article

Open Access
Current progress of skin tissue engineering: Seed cells, bioscaffolds, and construction strategies
Burns & Trauma
2013
1:10020063
Published: 18 September 2013
Abstract
The development of cell biology, molecular biology, and material science, has been propelling biomimic tissue-engineered skins to become more sophisticated in scientificity and more simplified in practicality. In order to improve the safety, durability, elasticity, biocompatibility, and clinical efficacy of tissue-engineered skin, several powerful seed cells have already found their application in wound repair, and a variety of bioactive scaff olds have been discovered to influence cell fate in epidermogenesis. These exuberant interests provide insights into advanced construction strategies for complex skin mimics. Based on these exciting developments, a complete full-thickness tissue-engineered skin is likely to be generated.
Key words
Regenerative medicinewound healingbiomaterialsseed cellstissue-engineered skin
Introduction
As the largest organ, skin covers the entire exterior of the body and takes over about 8% of the total body mass. Due to its direct exposure to potentially harmful microbial, thermal, mechanical, and chemical damages, the loss of skin can occur for many reasons, including disorders, acute trauma, chronic wounds, or even surgical interventions.[1] Tissue-engineered skin (TES) substitutes represent a logical therapeutic option for the treatment of acute and chronic skin wounds. Since the successful isolation and cultivation of human epidermal keratinocytes in 1975,[2] TES has developed from epidermal substitutes to full-thickness skin containing different seed cells [Figure 1]. According to their anatomical structures, skin substitute products could be classified into cellular epithelial autografts, engineered dermal substitutes, and engineered dermo-epidermal composite substitutes.[3] All these products have become a prospective measure for clinical treatment of large full-thickness skin defects.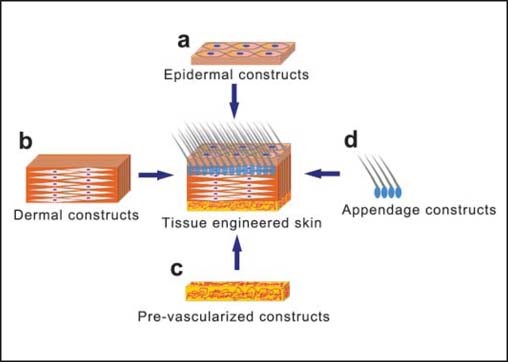 Recently, highly innovative progress in the development and clinical use of highly sophisticated TES in order to increase their medical safety, durability, elasticity, biocompatibility, and clinical efficacy has been reported. Here, we give a brief introduction to some representative progress in feasible seed cells and supportive biomaterials, as well as their applications in varied TES substitutes in developing our understanding of skin tissue engineering.
Access this article online

Quick Response Code:

Website: www.burnstrauma.com

DOI: 10.4103/2321-3868.118928
Seed cells for skin tissue engineering
Bioscaffolds in skin tissue engineering
The selection and optimization of a biomaterial scaffold plays a pivotal role in skin tissue engineering. Except for their mechanically supportive function, efficacious biocompatible scaffolds should assist the successful engraftment of TES, as they expediently accrete wound and promote granulation tissue formation, fibroblast-driven remodeling, angiogenesis, and re-epithelialization.[67] However, novel concepts of skin tissue engineering extend new and specific requirements for biomimetic scaffolds,[68] based on which many interesting natural and synthetic polymers have been used in constructing artificial skin.
Natural polymers
Collagenous biomaterials
As a major ECM protein of the dermal layer of the skin, collagen is the most widely studied and clinically utilized natural scaffold available for TES substitutes. The advantages include good biocompatibility, proper porous structure, as well as low immunogenicity.[55,67,69] However, the poor mechanical strength and rapid biodegradation rate of natural collagen scaffolds limiting the graft instability are the critical disadvantages that hamper its applications. Therefore, to control the degradation, numerous works have focused on the mechanical properties of collagen, such as chemical and biophysical cross-linking techniques[70,71] or a structural modification method like dense film.[72] For example, addition of matrix protein tropoelastin to type I collagen enhanced the proliferation and migration rates of dermal fibroblasts in vitro.[73] Cross-linking collagen with chitosan after electrospinning resulted in a good potential for keratinocyte migration and wound re-epithelialization.[15] Addition of fibroblast growth factor 2 (FGF-2) or vascular endothelial growth factor (VEGF) to heparin cross-linked collagen scaffold increased its angiogenic potential.[74] Although effective modification and improvement have been made, other discouraging problems in collagen-based polymers for skin tissue engineering still exist, including the high cost of purification process, potential viral and prior contamination,[75] and variability in the physicochemical properties depending on source and processing.[76]
Noncollagenous biomaterials
Except for collagen, some other natural polymers have been investigated as scaffolds for skin tissue engineering, including gelatin, hyaluronic acid, fibrin, laminin, and elastin. Under various process conditions, these proteinic polymers could form different phases such as suspensions,[77] gels,[78,79] sponges,[80] films, or sheets.[81] Though these naturally derived molecules have been considered advantageous in their cell interaction and signaling contributions, the mechanical properties of these materials are often poor in comparison to the properties of synthetic materials.[82] Therefore, the noncollagenous biomaterials, like collagen itself, are often organized into synthetic matrices or to retain their stability and mimic the natural ECM.
Acellular matrices
ADM, which is derived from full-thickness skin by removing cells and cellular components rather than native dermal structure and extracellular proteins, has been successfully used both in pre-clinical animal studies and in human clinical applications.[83,84] Retaining structural and functional proteins that constitute the ECM, including collagen, fibronectin, laminin, and vimentin,[85] ADM provides an intrinsic microenvironment for cell adhesion and proliferation. Previous studies demonstrate that endogenous growth factors such as VEGF, FGF-2, and transforming growth factor β1 remain on ADM and are released into the surrounding tissue to accelerate processes such as angiogenesis, cell recruitment, cell division, and even potential antimicrobial activity.[86,87] Such biological benefits have led to the application of ADM-based skin substitutes in burn coverage for decades.[88,89] Besides its natural structures, our results show that even micronized ADM still facilitates cell adhesion and growth in vitro as well as forms a thick layered tissue when transplanted into subcutaneous muscle.[90]
Synthesized materials
Compared to biological biomaterials, artificially synthesized polymers such as polyurethane (PU), polypropylene (PP),[91] polyglycolic acid (PGA), polylactic acid (PLA), and their copolymer poly (lactic-co-glycolic acid) (PLGA) display controllable mechanical properties and diverse plasticity.[92] It has been proved that PLGA-knitted matrix exhibits sufficient internal space for tissue ingrowth, in addition to its skeletal role in enhancing natural biopolymers like collagen.[93,94] Other polymeric biomaterials like polyvinyl alcohol (PVA) are capable of increasing structural stability and tensile strength, and improving initial cell proliferation when blended with collagen.[95] Unfavorable cell adhesion materials like poly (dl-lactide) (PDLLA) could interact and integrate well with dermal fibroblasts after addition of 30% poly (ethylene glycol) (PEG) before electrospinning.[96] Polyhydroxybutyrate (PHB) combines with organic-soluble chitosan and also reveals beneficial effect on promoting cell attachment and proliferation.[97] The progress in controlling scaffold property is exciting, but most of the current studies just demonstrate novel materials or methods without making comparison with any other available TES constructs. Predictably, but disappointingly, these works accumulate limited knowledge about the materials and their properties that are most suitable for TES.
To differentiate natural and artificial biomaterials from one another in only one specific aspect, several arrays screening of biomaterial have been developed.[98–100] These efforts provide in vitro pre-screening data for the selection of appropriate set of matrix molecules for skin tissue engineering. However, due to the complexity of in vivo microenvironment, more works such as testing different types of cells and additional modifications need to be extended in order to increase the possibility to successfully predict optimal biomaterials for skin tissue engineering.
Current strategies for TES construction
With various approaches presently being developed in different laboratories and companies, a number of artificial skin equivalents are commercially available and many others are under development.[101] According to the complexity of their anatomical structures, the construction of TES could be classified from single-layered ones to ones with more than two layers.
Single-layered substitutes
Epidermal substitutes
Based on the achievements made in in vitro cultivation and expansion of human keratinocytes, multiple autologous epidermal substitutes have been developed for re-epithelialization either by cell suspension (e.g. CellSpray[102]), subconfluent layer (e.g. Myskin[103]) or by sheet (e.g. Epicel,[104] EpiDex,[105] and EPIBASE[106]). The application of epidermal substitutes directly mitigates the deficiency of skin biopsy. However, the clinical integration of such cultured epithelial autografts is unpredictable and mostly relies on the condition of the wound bed, rather than the terminally differentiated keratinocytes.[1] Besides, the poor mechanical property and development of contractures due to the lack of dermis are also problematic to the epidermal substitutes.[107] This resulted in further requirements concerning the development of dermal substitutes.
Dermal substitutes
The mechanical stability and elasticity provided by dermal layer could prevent wound contraction and scar hyperplasia. In case of full-thickness burns, both dermal and epidermal equivalents must be applied consecutively, in order to generate suitable nutritional and immunological environment before the application of epidermal layer. A large variety of acellularized dermal substitutes mainly produced from allogeneic, xenogeneic dermal matrices (e.g. AlloDerm,[108] GraftJacket,[109] and Matriderm[110]) or synthetic materials (e.g. Integra,[111] Biobrane,[112] and Hyalomatrix PA[113]) could stimulate the ingrowth of autogeneic ECs and fibroblasts that help defected areas form dermal structure after transplantation, while some of the bioactive dermal substitutes consisting of human neonatal fibroblasts (e.g. Dermagraft[114] and TransCyte[115]) spontaneously show benefits in vascularization, epidermalization, as well as ECM formation.
Double-layered substitutes
Double-layered skin substitutes combine both epidermal and dermal layers to histologically mimic the structure of normal skin. Without economic consideration, currently the epidermal/dermal composite TES (e.g. Apligraf[116]) represents the best treatment for skin repair, when compared with single-layered products. In skin tissue engineering, the interaction between parenchyma and stroma appears to be instructive in programming tissue structure and function during epidermogenesis.[117] It is widely accepted that the inductive effects of fibroblasts on epithelial morphogenesis are mediated by cell-cell interactions and ECM secretion.[118,119] Due to the interplays between multiple seed cell types, epidermal/dermal substitutes show enhanced wound closure and keratinization capability. A full-thickness living skin analogue (Activskin[120]) developed by our team has been used to treat refractory ulcers successfully in clinical applications. The treatment of refractory ulcers has drawn greater attention in recent decades owing to the increase in life expectancy in the industrialized world and the associated increase in the prevalence of comorbid conditions such as diabetes and vascular disease.[121]
More complicated substitutes
In addition to the clinically available TES, great efforts have been made exploring optimized 3D constructs to repair skin tissue. Recent advances in skin biology have stressed the importance of cell-cell interactions during epidermal morphogenesis. In particular, progress in the field of skin tissue engineering has contributed tremendously to our knowledge about in vitro epidermal morphogenesis, resulting in the reconstruction of highly sophisticated and innovative 3D skin equivalents that mimic human skin in terms of tissue architecture and function, including hair follicle,[122] capillary network,[59,62] sensory innervation,[123] adipose tissue,[124] and pigment production.[30,125] When grown in the environment that mimics the anatomical position of skin, these bioengineered skins present definite differences in epidermal regeneration according to the types of seed cells used in the dermal substitutes. An exhilarating advancement is the elucidation of the crucial role of MSCs in skin regeneration. Apart from the morphogenesis potential, recent experimental evidence also demonstrates that BMSCs combined with epidermal stem cells could accelerate wound re-epithelialization and have better therapeutic potential in activating blood vessel and hair follicle formation than epidermal stem cells alone.[126] Like BMSCs, ADSCs are capable of differentiating into various skin cells which subsequently contribute to the wound healing.[127] The result obtained in our recent study in a bilayered TES system shows that a mixture of dermal fibroblasts and ADSCs in a ratio of 1:1 is superior to fibroblasts or ADSCs alone in promoting keratinocyte proliferation and differentiation.[128] With the steps into wound healing echanisms, proper combinations of cells and their interplays in initiating healing may be a way out for permanent TES construction.
Challenges and perspectives
Currently, most of the TES could only function as temporary substitutions in skin wound healing. Lack of immediate blood supply and activation of immune rejection are the two major problems preventing the permanent integration of allogeneic TES. Evidences have shown that most of the cells contained in TES do not survive for 1 month after transplantation.[129] This temporary nature, whether the substitutes are degradable or have to be removed, makes TES predominantly serve as "coverings" instead of a real organic regenerator. However, it is reasonable to believe that with the development of skin biology, material science, and engineering technology, the TES will finally have an equivalent structural and functional therapeutic outcome as autogeneic skin transplantation does.
Declarations
Acknowledgment
This work was supported by a grant from National High Technology Research and Development Program of China (863 Program) (2012AA020507).
Open Access This article is distributed under the terms of the Creative Commons Attribution 4.0 International License (http://creativecommons.org/licenses/by/4.0/), which permits use, duplication, adaptation, distribution, and reproduction in any medium or format, as long as you give appropriate credit to the original author(s) and the source, provide a link to the Creative Commons license, and indicate if changes were made
Authors' Affiliations
(1)
Xi'an Institute of Tissue Engineering and Regenerative Medicine, Xi'an, Shaanxi, China
(2)
Research and Development Center for Tissue Engineering, College of Stomatology, Fourth Military Medical University, Xi'an, Shaanxi, China
(3)
Research and Development Center for Tissue Engineering, College of Stomatology, Fourth Military Medical University, Xi'an, Shaanxi, China